Sympathy - Abyssal Throne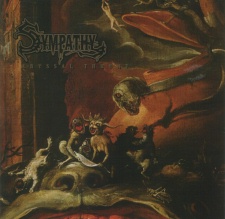 After an opening keyboard intro of about 35 seconds...the insanity continues. Sympathy's last two releases, Invocation and Arcane Path, were full of insane, technical, and atmospheric death/black metal. Arcane Path showed an improved Sympathy, a more extreme Sympathy, and a better produced Sympathy. Now with this new EP, Abyssal Throne, Sympathy has yet again pushed the envelope. The sound is a touch more extreme, the production has improved again, and the overall sound of the band seems to be coming together even more. Sympathy resides on the Fear Dark Records roster, but for this one release they have chosen Momentum Scandinavia for a 850 copy limited edition release with an intro, two brand new songs, two re-recorded songs off of Invocation, and one cover of a Suffocation tune. And for all those who don't care for EP's, Sympathy packs more intensity and chaos into these 6 songs than most bands can in a full 10 song, 60 minute CD...so you are without excuse.
The opening track after the intro is a song called, "Insipid". This track is new and it freakin' slays. Brutal guitars that tear at your flesh, frantic blasting, and dueling vocals between Dharok of Sympathy and guest vocalist Matt Knowles of Royal Anguish. Knowles handles the more growled vocals and Dharok handles the more blackish death vocals. New guitarist (?) Dustin Olson also lends a killer Kekal-styled guitar solo that dang...I wish was longer! "Immolation of the Dragon" wastes no time in screaming in after the finish of the previous track. This was one of my favorite tracks off of Invocation and this re-recorded version sounds great. The lyrics which speak of the impending defeat of Satan make you want to growl along as you taunt that worthless scum. "Ascendency" is next and it's another new track. This song features a cool opening guitar solo by Tim Roth of Into Eternity and some flat our crushing riffs mid-song. Great tune, but I'd vote for "Insipid" as the better new track. "Occupy" is next and it was another of the songs that was re-recorded for this EP. Again, this was one of my favorites from Invocation. This wicked-crazy song sounds fantastic here with some...what sounds like, added symphonic sounds (if I remember correctly as it's been a little while since I listened to Invocation). Again, like "Immolation...", this track has great lyrics that speak boldness against our evil foe...."Against the gates of hell I will stand/In my enemy's land I will occupy/Against dark forces and evil/I will not sway, turn back, or bend!" The final track is a cover of the Suffocation song, "Torn into Enthrallment" with guest guitarist Rob Doherty of Into Eternity. Sympathy does a solid job here, and while the song doesn't sound quite as full and powerful as the original version, it's still a great rendition of this deadly song.
Again, Sympathy has raised the bar a little bit higher and makes me all the more excited about what comes next for the band. To top off this great EP, the packaging looks terrific...which has been the trend from anything released by Momentum Scandinavia. The awesome CD cover was done by Samuel Durling of Mental Destruction (or so I'm told) and the inside and back cover are very nice as well as the main artwork is overlaid with gold-inked artwork.
One thing is for certain, if you've loved Sympathy's previous work, this is a no-brainer. Despite the band's name, the music on this release would be better described as relentless and hostile aggression. All fans of brutal, but also well-played, extreme metal should be flocking to buy this disc.
Rating: 96/100
Review By: Matt Morrow
Label: Momentum Scandinavia
Total Songs: 6
Total Time: 24:52
Tracklisting: 1. Depths of the Earth, 2. Insipid, 3. Immolation of the Dragon, 4. Ascendency, 5. Occupy, 6. Torn into Enthrallment.
Best Songs: Track 2.
Band Lineup: Dharok - All instruments and vocals, Matt Knowles - Additional Vocals, Dustin Olson/Tim Roth/Rob Doherty - Additional Guitars.
Band Website: http://www.realmofdisease.com