Slechtvalk - Thunder of War (Maxi Single)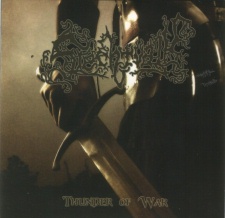 Right on the heels of their incredible new full-length, At the Dawn of War, Slechtvalk hits us again with a maxi single titled, Thunder of War. This 4 song disc includes two different versions of their first single, "Thunder of War", and two new exclusive tracks, "Illusions" and "Loss". For those of you who are fans of Slechtvalk already, this is a must buy in my opinion. Fear Dark has made it available for the low price of $5 US and you definitely get your money's worth on all four tracks. The disc opens with "Thunder of War" (the single version). This track is an aggressive slaughter fest of black metal fury. Fans of Dark Funeral who can get past the non-Satanic lyrics should be drooling all over this band. Slechtvalk is not a clone band, but when they go full-throttle, they can hang with DF with ease. Rapid-fire blasting, horrifying black vocals, blistering guitars, haunting viking-style male clean vocals and beautiful female harmonies give this songs a huge, massive feel. And dang you gotta love Grimbold's drumming on this track. He freakin' slays. This may be only a four song disc, but this song is multiple repeat material for sure. So you could almost consider this a full length release of sorts. "Illusions" is up next and this song could've fit quite nicely on, At the Dawn of War. The song starts with a piano intro before rearing its mammoth black metal head. One can feel influences from early Slechtvalk (ala Falconry and The War that Plagues the Lands) mixed with the Slechtvalk of 2005. Fionnghuala's female vocals alongside Shamgar's black vocals make for a very interesting feel. Then they mix Fionnghuala's vocals with Ohtar's clean male vocals later in the song to great effect. This band has become masterful at creating such great music that's it's scary what they will eventually become. The bass guitar on this song is very apparent, giving the song a good low end rumbling amidst the screeching guitars. The keyboards, while plentiful, keep a constant presence in the background that give the song that added emotional kick. For all those wary about buying a single that only has two new tracks, this song is proof enough that this disc is much more worthy of your purchase than that next coffee at Starbucks. "Loss" rings in as the third track. This song shows Slechtvalk's more mellow side. It's starts with keyboards, bass, and drums that are soon joined by Fionnghuala's mesmerizing vocals. The heavy guitars join in shortly (ala "In Paradisum") to keep the metalheads from losing interest due to the lack of shrieking vocals. Fionnghuala kicks in the operatic vocals about 3/4 of the way through the song, but unfortunately they are all too short as the song quickly ends just as you were getting comfortable with band's lighter side. The final track on this disc is the album version of the song, "Thunder of War", which clocks in at about 30 seconds longer than the single version.
This disc is housed in a glossy cardboard sleeve with a cool band photo on back, but unfortunately no lyrics or anything of that nature. You can check out the lyrics to "Thunder of War" by purchasing, At the Dawn of War though. And I repeat...Slechtvalk fans shouldn't hesitate at all at picking up this disc. With a new full-length, a killer live DVD, and now this maxi single release, the band seems poised to make their big move in the scene with a huge push by Fear Dark Records. Let's hope many sit up and take notice cause this band has talent running out their ears and they deserve any accolades that come their way after this flurry of activity.
Rating: 95/100
Review By: Matt Morrow
Label: Fear Dark Records
Total Songs: 4
Total Time: 18:46
Tracklisting: 1. Thunder of War (single version), 2. Illusions, 3. Loss, 4. Thunder of War (album version).
Best Songs: 1, 2, & 4.
Band Lineup: Shamgar - Guitar/Vocals, Ohtar - Guitar/Vocals/Flute, Fionnghuala - Soprano/flute, Nath - Bass, Hydrith - Keyboards, Grimbold - Drums/Additional Vocals.
Band Website: http://www.slechtvalk.com