Six Feet Deep - The Road Less Traveled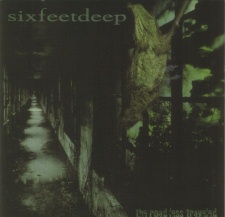 With Retroactive Record's torrid pace of re-releases, you are bound to have a few albums that really didn't deserve that second time around. However, the label's decision to re-release the two incredible hardcore classics by Six Feet Deep is a choice that deserves high praise. While it was fantastic to hear Six Feet Deep's Struggle album, this sophomore release, The Road Less Traveled, is a step forward for the band in just about every department. This disc finds the band writing better songs and also sporting much improved production. Where Struggle tended to be muddy at times, this release gives a much more listenable performance. The band continues to pummel listeners with their aggressive hardcore style that was heard on Struggle, however, this time the band seems to pick it up a notch by offering more speed in their songs while losing none of their heaviness. Myx Porter's angrily spouted vocals sound terrific again and he even mixes in a few instances of clean vocals to add some variety on this disc. But don't despair hardcore lovers, this is nowhere close to an attempt to make the band have a more accessible or nicer sound. This is brutal hardcore - pedal to the floor.
As was with their debut, Six Feet Deep continues to write very high quality, deep, insightful lyrics. And to round out this stellar album, Retroactive has digitally remastered the disc for a better sound. This would definitely be an album that I would recommend picking up if you are even slightly into hardcore.
Rating: 92/100
Review By: Matt Morrow
Label: Retroactive Records
Total Songs: 11
Total Time: 43:14
Tracklisting: 1. Congruent, 2. Purify, 3. Slip, 4. Apathetic, 5. Narrow, 6. More in Sorrow, 7. Steadfast, 8. Meaningless, 9. Broken Tree, 10. Quick Time, 11. Untitled.
Best Songs: Tracks 2, 4, 7, 10.
Band Lineup: Myx Porter - Vocals/Guitar/Bass, Ta Wohlfield - Percussion, Matt Traxler - Guitar, Bryan Gray - Bass, Mike Shaffer - Guitar.
Band Website: N/A