Six Feet Deep - Struggle (Re-issue)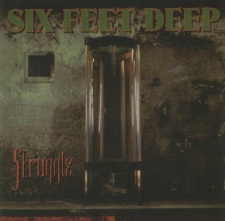 When you mention early hardcore groups in the "Christian" music scene, the initial groups to come to mind would be bands like Six Feet Deep, Focused, Unashamed, and a few others. I remember when those bands first released albums and I quickly snatched them all up and listened intently to the bone-crushing music fused with soul-piercing lyrics. Those bands were stripped down, raw, and wore their hearts on their sleeves.
I still remember the first time I ever listened to this classic Six Feet Deep album. I had bought the album at the mall and we cranked it up as me and my brothers drove home. I just couldn't get enough of this insane hardcore madness. The brutal guitars, the skull-pounding drums, the angrily spouted hardcore vocals, and the lyrics that blow me away even to this day. Six Feet Deep did hardcore the right way, from the plodding heaviness to the frenzied chaos. You can just imagine a crowd going crazy to this stuff in a live setting. Hailing from the Cleveland area, Six Feet Deep combined east coast hardcore with tinges of metal and they did it with commanding force. While I've strayed from hardcore in recent years, this is still an album that I can get into at any time and love it for its honesty and passion. Speaking of passion, the lyrics on this disc are full of passion. Six Feet Deep penned some of the best lyrics of all time on this album. They just seemed to be able to convey truth in a way that just floored me. I could print examples of some of the best lyrics, but I'd be here all day trying to decide which ones to type out. I'd encourage you to find them online and read them, even if you don't buy this disc.
About the only downer with the album is the somewhat muddy feel to the production. This re-release was digitally remastered, but there is still that feeling of muddiness. The songs are so strong though that it's not really that much of an issue. The other addition to the re-release is a history write-up on the inside of the CD booklet.
Big props to Retroactive Records for making this album available again. For hardcore fans of the past, present, and future, this is a very worthy album to have in your collection.
Rating: 90/100
Review By: Matt Morrow
Label: Retroactive Records
Total Songs: 11
Total Time: 50:40
Tracklisting: 1. Angry Son, 2. Front, 3. Struggle, 4. Regret, 5. Condemnation, 6. Nemesis, 7. Valley of Salt, 8. Homeless, 9. Land of the Blind, 10. Release, 11. Untitled.
Best Songs: Tracks 3 & 4.
Band Lineup: Mike Shaffer - Six String, Ta Wohfield - Percussion, Matthew Alan Simmons - Four String, Myk Porter - Voice.
Band Website: N/A