Seventh Angel - The Torment (Re-issue)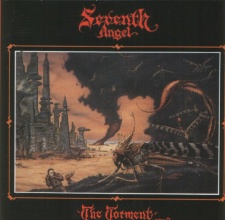 Long overdue, there is finally a re-release of the classic album The Torment by Seventh Angel. Originally recorded in 1990, Seventh Angel made a big entrance with this incredible first offering. The Torment is a fantastic thrash metal album that - 15 years later - still stands the test of time. Retroactive Records has released this 1000 copy limited edition with original artwork, lyrics, and liner notes written by the band's close friend, Nick Bolton. The album was also re-mastered for a better sound.

Describing the experience you will have when listening to this disc is hard to describe. I've listened to this album probably 3 to 4 times a day the last week and it just blows my mind every time. The crunchy, brutal guitars, the angrily spouted vocals (similar to Roger Martinez of Vengeance Rising), and the dark, haunting sound that invades every corner of this album. Drummer, Tank, pounds the drums like his trying to shove them through the floor. Add to all of that the killer guitar solos, creepy sounding acoustic guitar parts, and rare, but chilling clean vocals and you have a release that attacks and destroys on all fronts.

There is literally not one dull moment or bad track on this disc. From the raging opener "Tormented Forever" to the ultra-aggressive "Expletive Deleted", to the classic tunes "The Charmer" and "Dr. Hatchet", to the monstrous "Locked in Chains", to the moving "Katie", Seventh Angel will have you begging for mercy.

This is an album that thrash fans CANNOT live without. Pick up this classic masterpiece before it's gone again.
Rating: 94/100
Review By: Matt Morrow
Label: Retroactive Records
Total Songs: 10
Total Time: 47:58
Tracklisting: 1. Tormented Forever, 2. The Charmer, 3. Forbidden Desires, 4. I of the Needle, 5. Expletive Deleted, 6. Dr. Hatchet, 7. Locked Up in Chains, 8. Acoustic Interlude, 9. Katie, 10. Epilogue.
Best Songs: Tracks: 2, 5, 6, 7, and 9
Band Lineup: Ian Arkley - Guitars/Vocals, Scott Rawson - Rhythm Guitar, Simon Bibby - Bass Guitar, Tank - Drums.
Band Website: http://www.blackplanet0.freeserve.co.uk/seventh.htm