Seventh Angel - Lament for the Weary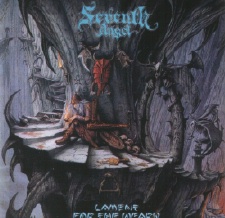 When you think of thrash metal and albums that stand head and shoulders above the rest of the pack...albums that are in an elite category with only a few other releases. Oh heck, let's not say just thrash metal, let's say heavy metal in general. Well, Seventh Angel's second and final release Lament for the Weary is one such album. This is one of my favorite albums of all time and a classic in every sense of the word.
There used to be a radio station here in Oklahoma when I was in high school that played metal every night from 11:00 pm until 5:00 am. I remember staying up late at night sometimes until 3:00 am or 4:00 am on a school night just so I could absorb every minute of metal that I could. When I finally went to sleep I would leave the radio on just in case I woke up at night...in hopes of hearing a good song. Well, the late night DJ was a guy named Vern Marks. He was this big Indian guy with long hair, tattoos, and lots of body piercings. He looked like a guy you wouldn't want to meet in a dark alley, but I'd met him personally and he was a great guy...and of course, he loved metal! Anyways...anytime that he would get ready to talk after a song he would play a musical intro that kinda let listeners know that he was getting ready to say something. Well, that intro was the middle section of the Seventh Angel song "Farewell to Human Cries". Hearing that song helped me develop a growing fondness for Seventh Angel. Vern also played many other songs from Lament for the Weary. Probably the one he wore into the ground the most was the awesome "Woken by Silence" (which started playing on my CD player just as I started writing this sentence). Needless to say, I've been hooked ever since.
So now, after numerous years, Retroactive Records has decided to re-release this masterpiece thrash album so that fans will have one more chance to own this unbelievable disc. If you are a thrash fan and are waiting for the next big thrash release to spend your money on, you may want to consider going back in time and picking this disc up instead. Although this was originally released in 1991, this is an album that has withstood the test of time and sounds just as good now as it did then. While Seventh Angel wowed metal fans with their stunning debut, The Torment, this second album is where the band showcases their best material. The music is more brutal, more punishing, and more refined. The band had found it's spot in the music world with this disc and they took listeners to the woodshed with every killer song on this release. Today when you think of metal that combines brutality and emotional beauty with perfection you may think of a band named Morphia. Well, in the early 1990's that band would have to be Seventh Angel. This album is a concept album about a man who suffered from child abuse in his childhood and was struggling with depression and suicidal thoughts in his adulthood. Eventually he returned to his childhood faith and faces death with no fear at the end. What results is an passionate album that contains music that perfectly captures the feeling in the lyrical content. The one that maybe stands out most is the heart-wrenching "No Longer a Child". The song starts off with a doomy feel, a melancholy guitar solo, and the spoken vocals..."No longer a child - a broken toy." The musical pace then quickens and intensifies as the lyrics describe a child being abused......."The door was opened wide/I'd never seen that look in daddy's eyes/Even though I cried/He wouldn't go away/I screamed inside/I try and try, but you won't hear my cries/I'd never hurt you, but in my soul is agony/I loved you even through the painful sleepless night/I'd never hate you but how can I ever be free/Daddy why do you hurt me?" Later in the song the raging metal stops to a lone acoustic guitar playing and the "voice of God" singing over the child......"My little child/I see your pain/I cry with you ever tear you weep/I weep with you/I'll never leave you/Or hurt you/And now I take you in my arms to show you a love you never knew." An emotional guitar solo follows that soon develops into a more aggressive solo as the thrash metal comes storming back with Ian Arkley's angrily spouted vocals. The closing lyrics show the child as he clings to the hope that God gave him despite the ongoing abuse. The song delivers a huge blow both musically and lyrically to the point where you almost have to stop the CD and regain your composure before continuing. However, if you do continue, Seventh Angel rewards you with a CD that is more then just 11 songs and 55 minutes of thrash, but a CD that is an experience that you will never forget and one that you will want to live over and over again. From the crushing riffs, to the breathtaking guitar solos that fill most every song, to the angry yet passionate vocals, to the folkish acoustic guitars, to the powerful drumming, to the moving lyrics, Lament for the Weary is one of the most mind-boggling yet one of the most underrated albums of all time.
Huge thanks go out to Retroactive Records for re-releasing this gem with a re-mastered sound and a band biography by band friend, Nick Bolton. Not to mention the original artwork, which is one of the best album covers of all time, by Rodney Matthews. Like all Retroactive releases, this is limited to 1000 copies, so act fast. And if you love thrash this will definitely not be a disappointment.
Rating: 97/100
Review by: Matt Morrow
Label: Retroactive Records/2005
Total Songs: 11
Total Time: 55:37
Tracklisting: 1. Recollections of a Life Once Lived, 2. Life in All it's Emptiness, 3. No Longer a Child, 4. Full of Blackness, 5. Lament for the Weary, 6. Woken By Silence, 7. Falling Away from Reality, 8. Dark Shadows, 9. Passing of Years, 10. Secure in Eternity, 11. Farewell to Human Cries.
Best Songs: Tracks 3, 6, 10, and 11.
Band Lineup: Ian Arkely - Lead & Rhythm Guitars & Lead Vocals. Scott Rawson - Rhythm Guitars, Tank - Drums, Simon Jones - Bass Guitar
Band Website: http://www.blackplanet0.freeserve.co.uk/seventh.htm