Schaliach - Sonrise (Re-issue)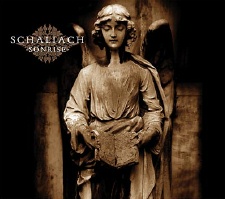 Ahhh...you gotta love the classics. Schaliach's Sonrise album was first released back in 1996. The band consisted of Ole Børud, who would be a part of Extol for many years, and Peter Dalbakk, who would later be a member of Vardøger. I bought the original Sonrise album from Rad Rockers mail order when it was first released and spent many a day in that first year I had the album listening to it's wonderful sounds and reading along with it's heartfelt lyrics. This band's doomy and atmospheric death metal sound was filled with an amazing amount of passion and depth. It may not have been the best the genre has ever seen, but the emotion that a band with a brutally heavy sound and growled vocals could convey was quite impressive.
Schaliach seemed to explore different sides of metal. From the speedy "You Maintain" which lyrics were sang as if God were singing the song and pleading his case to a lost soul, to the acoustic instrumental "In Memoriam" that mourned the loss of all the unborn children that were victims of abortion, to the doomy and melodic "A Father's Mourning", with it's spoken and cleanly sung vocals of God to a stray believer (similar to the story of the prodigal's son). Also showcased was the incredible guitar work of Børud who seemed to play with such a huge amount of feeling on this disc. This re-release also includes the song "Purple Filter" which originally was only available on the In the Shadow of Death compilation put out by Endtime Productions. This song has a very-Extol Undeceived-influenced sound...or was it that Extol's Undeceived album's sound was influenced by this song? With Ole Børud involved in both bands at that time, he may be the person to ask.
Other bonuses to getting this release is that it was re-mastered for a much better sound, and the first 1000 copies come in a lavish digipak with exquisite photos inside the CD booklet. And of course the fact that you get the "Purple Filter" track as an extra song.
A re-release of a classic metal album, done with style. Momentum Scandinavia strikes again and Schaliach is once again available to the masses.
Rating: 90/100
Review By: Matt Morrow
Label: Momentum Scandinavia
Total Songs: 9
Total Time: 51:47
Tracklisting: 1. The Last Creed, 2. You Maintain, 3. In Memoriam, 4. A Father's Mourning, 5. A Whisper from Heaven, 6. On a Different Day, 7. Coming of the Dawn, 8. Sonrise, 9. Purple Filter.
Best Songs: Tracks 1, 2, and 9.
Band Lineup: Ole Børud - Lead & Rhythm Guitar/Bass/Drums/Additional Vocals, Peter Dalbakk - Vocals/Rhythm Guitars, Øyvind Å. Berg - Strings & Piano.
Band Website: http://www.schaliach.com