Renascent - Through Darkness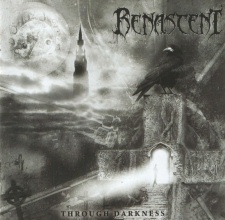 Man, I have SO been looking forward to hearing this new full length by Renascent! The day it came in the mail, I got like 7 or 8 other CD's as well. Usually that's a cool thing, but all I cared about was hearing this disc. And then frustration...the first time through, I was constantly getting interrupted and I had to keep pausing the CD to take care of stuff. But what I was hearing kept exciting me more!
For those not familiar with Renascent, they released their first EP a few years back called Demons Quest. Their wild mixture of extreme metal styles had me salivating like a mad-man, and I knew from the first listen that this band was going to be a force. Now on this disc, the band takes their sound a step further with a more aggressive, heavier sound that leans much more on death metal, but while still retaining some thrash and black influences. The band still relies heavily on keyboards, but the brutal guitars, furious drumming, and insanely wicked vocals steal the show. This Finnish 5-piece takes all that's good with Swedish melodic death metal (ala Dark Tranquility and In Flames) and weaves it in such a way as to also attract fans of bands like Old Man's Child or Dimmu Borgir. So those turned off by the melodic death metal tag should really forget your pre-conceived opinions here. Renascent has really improved their songwriting and it results in an album that just really hits on all fronts. One downfall of many bands that fall in the melodic death metal genre is that they so often write songs that sound so similar to one another. Renascent seems to avoid this pitfall and writes songs that stand completely on their own, without making the album sound disjointed. This is a headbanger's feast that will have you hooked from song one. Heck, the haunting intro hooked me before the music even started!
As for the packaging, production, and lyrics...packaging is great! The artwork is very cool, although the bird on the front makes me think of Into Eternity's Dead or Dreaming cover. When I first saw this album advertised it had a different cover, which I thought looked cool as well, but this one will do. Production is pretty thick and solid, but it's not what I would call perfect. The biggest annoyance is that sometimes the keyboards get REALLY high pitched...almost like a little baby's musical toy or something. Kinda sounds a little "gey". (LOL! That was for my bro's over at the MD). Seriously though, besides those sometimes annoying keyboards (which are only about 5% of the time) this is a very dark and brutal musical album. As far as lyrics go, the band pens some great stuff here. Very bold for their faith in Christ and very evangelistic, but well-written as well.
Great effort by a great band! Now the challenge comes in topping this despite the recent departure of drummer/guitarist/songwriter, Jani Stefanovic.
Rating: 94/100
Review By: Matt Morrow
Label: Metal Union Records
Total Songs: 11
Total Time: 48:38
Tracklisting: 1. In Hell, 2. Corrosion of Emotions, 3. Scenes of a Tragedy, 4. Through Darkness, 5. Sustain Me, 6. Arise, 7. The Last Journey, 8. Wisdom Calls, 9. Warriors of the Morning, 10. Exodus, 11. Majestic.
Best Songs: Tracks 1, 3, 4, & 8.
Band Lineup: Barry Halldan - Vocals, Eero Tertsunen - Guitars, Voitto Rintala - Bass, Mikaela Akrenius - Keyboards, Jani Stefanovic - Drums/Guitars.
Band Website: http://www.renascent.net