Raison d'être - Reflections from the Time of Opening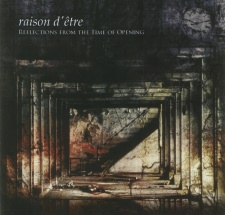 Some artists know how to create good music in a way that is mind-boggling. While there are many dark ambient projects out there, all others bow in reverence to the great, Raison d'être. Peter Andersson has been creating this kind of music since the late 1980's, and while his newest material is his best yet, even his older stuff has stood the test of time. He is a part of over nine different projects, including the fabulous work of Bocksholm, Stratvm Terror, and others. Reflection from the Time of Opening is a new release in 2005, but it is actually old material...well, mostly. The first fourteen tracks were all recorded in 1991 and were released on a CD in 1997 with the same name. This release is a re-mastered, re-released version of that release. However, this disc also includes bonus tracks. Those bonuses include the song off of the Absolute Supper compilation, the two songs off of the Funeral Songs compilation, two songs that were re-mixed off of Prospectus I, and a previously unreleased track from 2004. This newest track, "Summoning the Void", was actually supposed to be on a previous compilation, but due to a mastering mistake the song was completely blank. So this is essentially it's first appearance anywhere.
If you are familiar with Raison's most recent stuff, this will sound somewhat different. The songs are mostly shorter, and they are much simpler. There is a bit more of an electronica slant to the old material as well. You will hear similarities that remind you of the newer Raison, but this is still very different. However, it is still very high quality music. A great disc to introduce yourself to the back catalog of this fantastic project. The shining moments of the CD, however, are the newer tracks towards the end. "The Verge of Somnolence" is very haunting with it's chanting choirs softly singing behind the ambient soundscapes. Next up, with it's chiming bells, howling wind, and distant noises, "Procession" creates a very ominous feel. The final track, "Summoning the Void" ends the CD is great fashion with it's opening of numerous church bells tolling amidst a ever-growing droning sound. What is hard to describe in any exciting manner, is quite the memorable experience when listening for yourself.
To round things off, the 6-page fold out booklet, while simple, includes some great photographic artwork....completing this wonderful release. If you love dark ambient, you should consider starting nowhere but here. While some of the most recent CMI releases have been a little on the lacking side to say the least, Raison d'être never fails to impress.
Rating: 92/100
Review By: Matt Morrow
Label: Cold Meat Industry
Total Songs: 20
Total Time: 77:02
Tracklisting: 1. Ruins, 2. Auto-dafé, 3. Sub Specie Aeternitatis, 4. Archetypon Ataraxi, 5. Faceless, 6. The External World, 7. Metamorphe, 8. Gwynn-ap-nudd, 9. Reflectio Mediato, 10. Arbitaire Emotion, 11. The Maturation of Nature, 12. Death Pit of Ur, 13. Hell is Trembling, and the Gates of Death, 14. Le Temp et L'espace, 15. The Verge of Somnolence, 16. Procession, 17. Forgotten Mound, 18. Cenotaphium, 19. Penumbra, 20. Summoning the Void.
Best Songs: Tracks 15, 16, 17, and 20.
Band Lineup: Peter Andersson
Band Website: http://raisondetre.coldmeat.se/