My Silent Wake - Shadow of Sorrow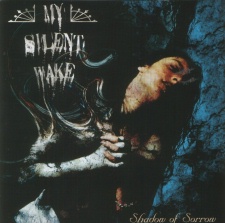 Finally it's here! I'm been SO looking forward to this new full length from My Silent Wake. Their previous 2-song demo got me all excited, and knowing that Ian Arkley (ex-Seventh Angel, Ashen Mortality, & Paramaecium and currently Century Sleeper & The Other Window) was fronting this new band made it all the more hard to be patient as it's release date drew near. And I can thankfully say, that after all the anticipation, this disc has certainly lived up to all the hype I had placed on it myself.
Still following that similar path that Arkley has always took, this album is full of doomy death metal with elements of thrash and goth. And of course, the mood is always dark and always depressing.
The album starts with a haunting intro and then delves right into the hypnotic and doomy opener. The guitars are absolutely crushing on this 8 1/2 minute marathon. They even grace us with a Seventh Angel-styled guitar solo that had me drooling. The next song "Burning" picks up the tempo with a thrash-styled riff and some great drumming. The gruff growls of Arkley are combined with some awesome, blood curdling screams on this song. And just when you thought this disc was kicking on all cylinders, it becomes time for "The Hunting Season." What a killer song! After the soft, plodding intro with despairing clean vocals, there comes a huge wall of guitars crashing in with the guttural growls, very reminiscent of the opening song on Morgion's final album. The dynamics of this song are drastic and yet they will have you hooked throughout this 15 1/2 minute track.
The short track, "The Mist" is also very cool with it's medieval-like sound including acoustic guitars, cello, various percussion, and very haunting clean vocals. Then just when you thought one 15 minute song on an album was shocking, they do it again on the song "Through Greenest Meadows." The doom is out in all it's glory here with Arkley's signature guitar-tone that he graced us with in his years with Seventh Angel and Ashen Mortality. The guitars on this song and throughout the album are just the saddest you've ever heard. It's almost as if they are weeping with sorrow. After a folky acoustic reprise, the album ends with the two incredible songs that make up their 2-song demo, "Your Cold Embrace" and "Encircle."
Combine all this with gorgeous artwork, solid production, and fabulous lyrics and you have a very impressive debut. And speaking of lyrics, while they are very dark, depressing, and sorrowful, there is that searching for truth and a glimmer of hope that Arkley so masterfully weaves into his writing. Definitely one of my favorite lyricists.
What can I say? If you are into bands like Seventh Angel, Ashen Mortality, My Dying Bride, or Candlemass, this one is gonna come highly recommended. Seventy-nine minutes of breathtaking doom/death metal of the finest quality. Just knowing that Arkley's other band, Century Sleeper, is releasing an album this year as well has me in fits.
Rating: 95/100
Review By: Matt Morrow
Label: Bombworks Records
Total Songs: 11
Tracklisting: 1. Wake, 2. Shadow of Sorrow, 3. Burning, 4. Hunting Season, 5. The Mist, 6. In Darkness, 7. Lost, 8. Through Greenest Meadows, 9. Shadow Reprise, 10. Your Cold Embrace, 11. Encircle.
Best Songs: Tracks 3, 4, 8, 10, & 11.
Band Lineup: Ian Arkley - Vocals/Lead, Rhythm, & Acoustic Guitars/Ebow/Piano, Andi Lee - Bass/Acoustic Guitar, Jasen Whyte - Drums/Percussion/Background Vocals, Alan Southorn - Bass, Kate Hamilton - Cello.
Band Website: http://www.blackplanet0.freeserve.co.uk/mysilent.htm