Mortification - Scrolls of the Megilloth (Re-issue)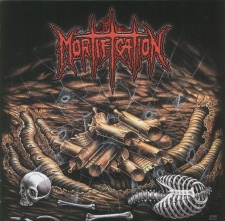 You see lots of re-issues floating around these days, and many times you may ask yourself why certain albums get re-issued and others don't. Well, this classic Mortification album is one of those albums that would've been on the top of my list to see the light of day again. While you can still find copies of this disc on Ebay occasionally, it's becoming harder and harder...until now. Soundmass, out of Australia, has helped allow this album to be readily available once again. In talking of the classics of death metal, this is one of those albums that always seems to get mentioned. Mortification's ultra-brutal death/grind style on this disc is one that has stood the test of time, even 13 years after it's initial release.
The album opens with sounds of nighttime...crickets and all kinds of other noisy creatures. The pounding drums slowly enter, but soon overtake the night sounds as the raging guitars and rumbling bass enter full force. The song romps along at a fast pace, slowing only to allow Steve Rowe to growl the chorus of..."Nocturnal....creatures....of the...night!" A great song that never really goes insane, but stays intense throughout. "Terminate Damnation" follows and the band rips an incredible tune here. It opens with a horrifying, long growl amidst the punishing guitars. The song continues to attack and leaves you breathless by the end. Other standout cuts include "Death Requiem" with it's great clean narrating vocals among the grinding, growling chaos, "Necromanicide" with it's break-neck pace that only slows to spout out the gruesome chorus of "Ne-cro-man-i-cide", and then the marathon classic "Ancient Prophecy". "Ancient Prophecy" just kills throughout and includes more of the long, drawn-out deep growls by Rowe along with some just plain SICK vocals mid-song that quote a part of a scripture from Isaiah.
As far as the musicianship goes, Steve Rowe, Michael Carlisle, and Jayson Sherlock do a tremendous job. My favorite being the fantastic drumming of Sherlock with tons of blasting and double bass. The dude just flies behind the drum kit. The biggest problem with the entire album is the somewhat muddy production in spots. However, the material is so great that I'm willing to overlook that. Soundmass has increased the incentive to buy this album by having enhanced cover art, new layout and band photos, and four bonus demo tracks that were recorded during the pre-production of the album. The songs suffer production-wise and may not appeal to everyone. But the long-time, hardcore Mortification fans will love hearing them.
Hats off to Soundmass for making this terrific album available once more! If you're into death metal, this is one you can't go wrong with.
Rating: 97/100
Review By: Matt Morrow
Label: Soundmass
Total Songs: 14
Total Time: 79:20
Tracklisting: 1. Nocturnal, 2. Terminate Damnation, 3. Eternal Lamentation, 4. Raise the Chalice, 5. Lymphosarcoma, 6. Scrolls of the Megilloth, 7. Death Requiem, 8. Necromanicide, 9. Inflamed, 10. Ancient Prophecy, 11. Terminate Damnation (demo), 12. Lymphosarcoma (demo), 13. Necromanicide (demo), 14. Scrolls of the Megilloth (demo).
Best Songs: Tracks 2, 7, 8, and 10.
Band Lineup: Steve Rowe - Bass Guitar/Lead Vocals, Michael Carlisle - Guitars/Backing Vocals, Jayson Sherlock - Drums/Backing Vocals.
Band Website: http://www.soundmass.com/rowe/