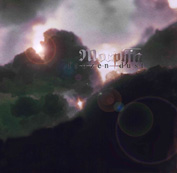 Is it possible for metal to be "beautiful"? One listen to "Frozen Dust" by Morphia and I think that most will agree that this is definitely possible. This band from the Netherlands plays symphonic doom/death metal and from the first song to the last song on this amazing release they will suck you into their world, and take you to a place of beauty...of passion...of emotional landscapes...of horrific fear... of past and present...journeying through the clouds....beyond space and time. Take the beauty and passion of Saviour Machine and mix it with the heaviness of Paramaecium and you'll have a slight indication of the direction of this band.

This album is definitely one of my top five for 2002. This is a drastic improvement over their previous album, "Unfulfilled Dreams". The new singer Jasper Pieterson supplies some killer vocals from a very deep growl to some high-pitched growls. The clean vocals and background vocals are exceptionally well done as well. The music is very emotional and brutal. Although still very slow, the up-tempo parts are more frequent on this album. "The Sun" is the first song following the intro instrumental and this song just rips and tugs at your heart. Even though there are vocals, even just the guitars pour forth emotion, including the Saviour Machine-like guitar solo. "The Forest" is next and is another breathtaking song. Starting with soft guitar, then shifting to a heavier feel, before pummeling with brutality while mixing growls with haunting clean vocals. This band mixes the clean vocals in perfectly at just the right time...every time. The keyboard work here is also essential to the success of each and every song. There is just not a thing on this album that doesn't "work". Other standout cuts include "Frozen Dust" and "Again".
Lyrically, the band is very hard to figure out at times, but I enjoy a nice challenge. They mainly seem to focus on someone who is paralyzed by fear and haunted by his past and present mistakes, failures, and pains. But through all the agonizing, he still yearns to be healed. In the song "Frozen Dust" he sings of an unbearable pain that eats at him in his memories. However, by song's end he cries out "No more shadows/no more fears/take this pain/away from here/Leave this forest/behind me/O God/Make me free/Take me.../Away.../From here.../Let me feel again/I can't take it no more/No more pain anymore/No more painful memories/No more endless tears/No more screaming/No more bleeding/No more fear/No more..." Very powerful!
The packaging is top notch with great artwork and band photos and the production is stellar. I can't say enough good about this disc. I'm thoroughly impressed. This is a very special album that deserves to be heard by all metal fans. This is definitely worth your hard earned cash. Visit the Fear Dark Records website for ordeing info. (Review by Matt)