Morphia - Fading Beauty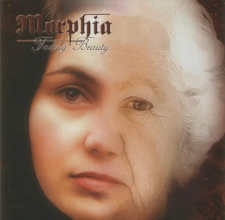 The masters of emotional doom are back. Morphia graces us with their third full length, Fading Beauty, and what an incredible ride it is. For those who fell in love with the band on their Unfulfilled Dreams album only to be blown away by the progression on Frozen Dust, well, this gothic-influenced death/doom band from the Netherlands will yet again completely satisfy their loyal and adoring fans.
This disk is metal for sure, but Morphia expresses more emotion through their music than just about any band out there. The brutal, plodding guitars and low growling vocals are still present as on past albums along with some blackish-styled screams, but they are used here as an expression of power and passion and not necessarily as a means to be extreme. The band also utilizes beautiful and moving clean vocals, acoustic guitars, keyboards, and some guitar solos and violin playing that will make you weep. Combine that with lyrical content that sweeps the spectrum from love to despair to pain to hope, Morphia not only plays music with feeling, but they sing about emotional topics. I cannot hype this band enough. While they may not write the most complicated and technical songs, what they do, they do in breathtaking fashion. You can't help but sit back and close your eyes while listening to this album and just let yourself soak it all in. It's quite the experience.
If you love doom metal like Morgion, Paramaecium, or Ashen Mortality, and canít get enough of the overwhelming depth and feeling of bands like Saviour Machine or Virgin Black, then Fading Beauty is exactly the album you need to purchase.
Rating: 97/100
Review By: Matt Morrow
Label: Fear Dark Records
Total Songs: 10
Total Time: 61:08
Tracklisting: 1. Meaning of Forever I, 2. Of Stars and Flowers, 3. Meaning of Forever II, 4. Fading Beauty, 5. Nothing More to See, 6. Memories Never Die, 7. What Once Was, 8. Sound of Violence, 9. Meaning of Forever III, 10. Serenity.
Best Songs: Tracks 1, 2, and 6.
Band Lineup: Jasper Pieterson - Lead Vocals, Roger Koedoot - Guitars/Vocals, Martin Koedoot - Guitars, Peter van Tulder - Synths/Vocals, Erik van Tulder - Bass/Vocals, Ernst-Jan Lemmen - Drums, Bert Bonestroo - Sound Engineer, Esther Wertwijn - Violin
Band Website: http://www.morphia.nl