Kohllapse - Distant Mind Alternative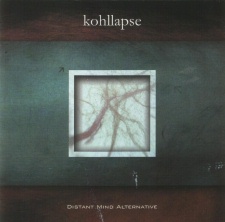 One of the bands that I missed out on in the late '90's that I wished I had gotten into more was Kohllapse. Their first album, which I never had the privilege of hearing, aside from a few samples, was dubbed as a cross between Saviour Machine and Paramaecium. Seeing has how Saviour Machine is one of my all-time favorite bands, the thought of me not buying that disc just blows my mind eight years later. Then, they released Distant Mind Alternative in 1999. I heard the song "Thorn" on one of the Cross Rhythms (now Blastbeats) samplers and I loved it. BUT...once again, I didn't buy the album. I ended up hearing that album one time a few years ago and liked it, but still...no Kohllapse in my collection. Now, after all these years, I received this re-issue of the band's second album in my mailbox. After numerous listens in the past few weeks, this album has totally won me over. Kohllapse pulls off an incredibly passionate performance on this diverse metal album. Pinning this band into a hole is impossible. One song is soaring atmospheric metal, one song slows it down to a doomy/gothic pace, and then yet another song turns into a progressive metalized industrial feast. Soundmass states that fans of Virgin Black, Saviour Machine, Visionaire, Paradise Lost, and Type O'Negative should dig this band. I couldn't agree more. And truthfully, it may require you to be fans of some of those bands to get into Kohllapse, as they take quite an open mind to get into. This is not just raging, adrenaline-filled metal. There are many calmer moments that will try the patience of the average, caffeine overdosed metalhead.
The opening song "Thorn" is just an incredible song. The overwhelming metal surge is merged with the emotional vocals that include rich, clean vocals mixed with heart-wrenching screams. The subject matter of the song deals with a person who harshly judges someone else to the point of questioning their faith and even having the nerve to say that that person's faith is nothing without their influence. The lyrics pointedly state, "...without you I'm not on fire???? The thing you've missed was the thorn in your eye." It ends with, "Despite what you think/The love touches my soul/the Son is in my heart/....this ego trip, God shakes His head/What you've made will be your bed." Awesome! The next song, "Real Man in Quicksand" is a massive departure from the first song. The metalized guitars are subdued somewhat to incorporate some industrial, techno, and gothic influences. The distorted vocals tell an story of the man of the modern age and how he is deceived by thinking money and success are what matters most. The story ends with, "....Get me more cash and some success/maybe then I'd be a real man/with a real life and security/to make me smile again/till the sun sets/then I'd be a rich man/a dead man with a head stone/to tell the world I was a real man."
Other standout cuts on the album include the powerful "Ghost Storm" which combines heavy metal guitars with insane screaming from vocalist, Ro Edwards. The song paints a beautiful picture of a dry and barren soul being filled with the Holy Spirit. And another fantastic track is "Contort" (which you can find on the Soundmass Compilation, OZ Mosh 2005). It features female vocals by Anne Marootians. She whispers vocals at the first mixed with acoustic guitars, before being blown back by a horrific scream by Edwards and the huge wall of guitars. His half-whispered/half-screamed and deliberately pronounced vocals fit the song perfectly. This may be the song on the album that is best suited for some good headbanging with it's rapid-fire, progressive metal laced guitar playing. The song ends with the tolling of bells and the soft, delicate playing of keys on a piano. Simply amazing song! And then the album ends with the mesmerizing and brutal "Insight". The lyrics here are also worth a read as they seem to be the words of a Christian describing the challenge in living, in this sinful world, the faith that is in his heart...."Actions don't always speak my heart/Creeping weeds invade the dark/Grinding world soaks my spark/Shining cross lights my path/It's ok, I'm still saved/It's ok (when I) reach the grave."
All I can say is that I am so disappointed that I didn't get into this band before. But maybe it wouldn't have been so special had I heard the album before now. Regardless, this is a breathtaking disc that deserves to be heard again. Good call by Soundmass in re-releasing this masterpiece. Go to http://www.soundmass.com to pick up this fine album.
Rating: 94/100
Review By: Matt Morrow
Label: Soundmass
Total Songs: 10
Total Time: 56:54
Tracklisting: 1. Thorn, 2. Real Man in Quicksand, 3. Seven, 4. Gravitation, 5. Ghost Storm, 6. Eclipse, 7. Contort, 8. Deep Blue, 9. Insight, 10. Untitled.
Best Songs: Tracks 1, 2, 5, 7, and 9.
Band Lineup: Ro Edwards - Vocals/Guitars, Matt Aitchison - Drums/Keyboards/Sequencing/Backing Vocals, Paul Sweeney - Bass.
Band Website: http://www.geocities.com/SunsetStrip/Club/5200/