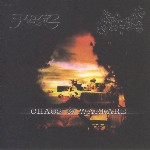 I've been anticipated this release for a long time. Honestly, it hasn't been really all that much to hear the new Kekal, but mainly for the new Slechtvalk. I had heard a lot of hype about the new material and the fact that Slechtvalk now is a full band instead of a one man project, we could hear what they sound like without a drum machine.
Kekal opens this split CD with three songs that are hit-and-miss. "The Only Sound of Rain" starts things off. The first of this song really did nothing for me. They used more clean vocals like on their "Painful Experience" album and those just don't do it for me. At times the vocals sound like he's singing through a pipe. However, near the end of the song, the intensity level picks up and the black vocals come in. Now, this is what I'm talking about. These guys do such awesome black vocals, I just wish they would stick solely to them. Next up is "Mean Attraction", which showed up on their previous release. This song was actually the best song on the last album, so I didn't mind it being here. The pace is very fast and the majority black vocals sound really tasty. They even do a commendable job on the few clean vocals used here. Next up is "A Stranger So Close". The first time I heard this song I was listening in my living room. After it was done, I yelled out in disgust, "That song was horrible!!!" My wife thought the same thing, but that's because she doesn't like metal period. Upon further listens, I've started to like the end of the song as it intensifies like the opener does, but certain parts in the song make me cringe. Lastly, they do an awesome and emotional cover of "The Skull" by Trouble. I often find myself hitting repeat on this song. The lyrics on this song are very good and Kekal adds a great amount of passion into the tune. Kekal is a very talented band musically, but some of their vocal experimenting seems to hold them back from becoming an excellent band.
Slechtvalk is next and this material is absolutely killer! "Whispers in the Dark" chimes in first and is a song that easily could have fit on their Falconry album. It would've probably been the best song on "Falconry" had it been included. It sounds like drum machine material though. However, its the following three songs with a real drummer that leave me virtually speechless. "The Dragons Children" is a brutal, pure black metal song. No keyboards my friends. Just blistering guitars, blasting galore, and horrifying vocals. "Storms" brings back the symphonic black metal style in another extremely fast song with tons of blasting than incorporates some awesome black metal/death metal vocal trade-offs. Lastly, they do a fantastic cover of Antestor's "Kongsblod". I really like this version, but I like Antestor's better. The Antestor album this song comes off of has such a great atmosphere and feel about it, that taking just one song out doesn't allow for the same feeling. But nevertheless, Slechtvalk does a great job on it. These four songs are very intense and worth the price of the disc alone.
I talked to Raffi at Fear Dark Records and he said the upcoming Slechtvalk full-length is even better than the material here! Needless to say, I'm drooling all over myself right now. With great songs, great production, and nice packaging...you want this CD. (Review by Matt)