Haven - Age of Darkness (Re-issue)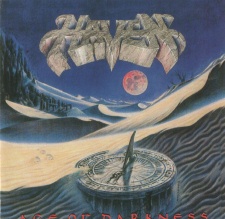 Well, the re-release bonanza from Retroactive Records continues with this highly-worthy release from Haven. Age of Darkness was Haven's second album, released in 1991. This highly-sought-after disc has been out of print for a long time and now, thankfully, it's easy to find once again. On their previous release, Your Dying Day, Haven dished out some serious power/thrash metal that still gets spins in my CD player from time to time. With Age of Darkness we find an even more mature band that while sounding very similar goes a little more down the path of melodic, technical power/progressive metal with even less hints of thrash than their previous disc. This is in no way to say that this is a wimpy or bad album though. This is high quality material that should've had more attention in its day. Fans of bands like Queensryche would be proud. While the music here is very great and very well played, I think as a whole I enjoy their first disc better. It was more consistent from start to finish, plus it had a darker and more aggressive sound. Still, you gotta love the classics like "Divination", "Séance", "The Witching Hour", and "Blood of the Lamb" that show up on this disc. And I still remember listening to the radio in high school and the night time metal DJ used to play the song "Spend My Life With You" all the time as a tribute to his girlfriend at the time. The band even includes three haunting, acoustical tracks, the best of which is "Once Upon a Time" where it sounds like the piano and acoustic guitar are played backwards as Kevin Ayers sings over the top in this creepy voice mixed with some occasional whispering. Very cool ending to the album…..only that's not the ending. Retroactive Records has also included six bonus tracks from Ayers' new hard rock outfit, Thunder Bucket. Truthfully, the name of the band alone gave me a wariness before I even heard the songs. While being decent tracks, they are just some average, semi-King's X influenced hard rock songs that are nothing to get too excited about. For the crazy Kevin Ayers fan, I can see people enjoying getting to hear these tracks, but I could've done without them myself.

Packaging has the same artwork, only enhanced. And you just gotta love that album cover. Fits perfectly with the music from the song "Once Upon a Time." Lyrics are included and deal a lot with witchcraft and the occult. Plus there are some love-type songs on here too. And as was the case on their first disc, Haven's faith in God shows up very boldly.

All in all, this Kurt Bachman-produced, digitally re-mastered album should be a welcome sight for those Haven fans who have been searching for a copy of this disc.
Rating: 87/100
Review By: Matt Morrow
Label: Retroactive Records
Total Songs: 18
Total Time: 78:26
Tracklisting: 1. Tenacious Volition, 2. Divination, 3. When You Said Goodbye, 4. Holly, 5. Exaltation, 6. The Witching Hour, 7. Seance, 8. Spend My Life With You, 9. Unchanging Love, 10. Blood of the Lamb, 11. Once Upon a Time, 12. (Silence), 13. Mamma, 14. Black Friday, 15. All the Wrong Heroes, 16. Mudshoe Moses, 17. The Sea, 18. Her Eyes.
Band Lineup: Kevin Ayers - Lead & Backing Vocals/Electric, Acoustic, and Classical Guitars, Tim Benton - Drums, Andrew Bruner - Lead & Rhythm Guitars, Ed Bruner - Piano/Classical Guitars/Bass Guitar, John Farrell - Lead, Rhythm, Electric, & Classical Guitars.
Band Website: ?