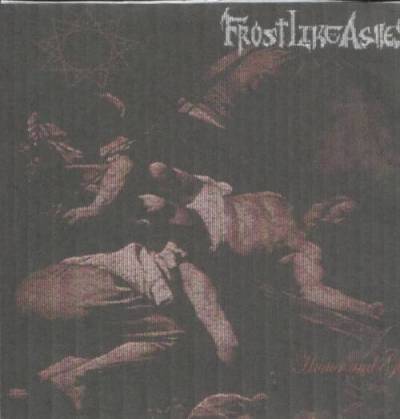 From the state of Missouri comes a raging force called Frost Like Ashes. This three-song demo is nothing short of insane and for all those into black/death metal, this is definitely a must get. Comprised of former members of the bands World Funeral, Coven, and Possession, Frost Like Ashes just totally shreds. The music is chaotic, dark, and brutal, and the vocals are just plain sick. Vocalist Azahel used to head the band Possession, so any of you familiar with that killer band know that this guy can hang with the best of them.
All three songs, "Adorers of Blood", "A Cruel Verse" and "Immortals" will blow you away. The production suffers a little, but still allows for an enjoyable listen. "Adorers of Blood" starts off the album with more of a death metal feel. This song is huge and massive and very addicting. The vocal trade-offs are terrific and remind me a lot of what Possession used to do. "A Cruel Verse" is next and is probably by favorite song on the disc. This song is much more black metal and starts off with a very haunting intro. A whispering voice begins and it soon turns into a freaky scream that will give you chills. Right after, the blastbeats start in and the song never lets up. I could see fans of Cradle of Filth getting into this tune.
Although only a three song demo will be made available to the public, my version also has the song "Let All Mortal Flesh Keep Silence" which will appear on the "Brutal Christmas" album on Sound of the Dead Records later this fall. This song is killer and definitely the best Christmas song I've ever heard! If it's any indication of the rest of the "Brutal Christmas" album then metalheads should be snatching it up quick. The final song "Immortals" is the song that started it all for Frost Like Ashes. This is the weakest song on the disc, but still a very good song. Chaotic, fast, and brutal with the most Possession-like vocals of any of the songs. Lyrically, the band is very good! You can check out all the lyrics on the band's website.
Overall, this is a disc that I can't stop listening to. I can see room for improvment and growth, but for a demo, this is an awesome start. Visit the Frost Like Ashes website for contact info and sound samples at:
http://frostlikeashes.deadzine.com
. The band is also currently looking for a keyboardist, so interested parties should contact the band through their website e-mail address. Somebody sign these guys! (Review by Matt)