Fragments of Unbecoming - Sterling Black Icon: Chapter III - Black But Shining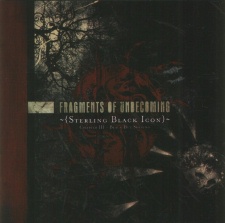 Hailing from Germany, Fragments of Unbecoming finds themselves deeply entrenched in the sounds of Swedish death metal on this, their second release on Metal Blade Records. While this style is as nasty a trend as metalcore to some, fans of bands like Dark Tranquility, In Flames, Soilwork, Lilitu, and Immortal Souls should eat this band up. While the base of their sound will be familiar to most ears, they incorporate enough variety to make things interesting.
The album starts with an acoustical based intro and quickly rips into the opening metal track. The melodic death metal sounds are ever apparent here and only pause long enough between verses for some swirling guitars under a steady drumbeat before blasting with full force brutal guitars and raging, growled vocals.
The vocals on this disc are extremely well done with a mixture of high and low growls. The song "Weave Their Barren Path" even includes some trade off growling vocals followed by some sinister sounding clean vocals...the only clean vocals on the album, but they sound great. This track also includes some blistering guitar work ala the progressive avant-garde black metal outfit, Kekal.
"Dear Floating Water" is another great track that starts out with some groove-laden guitars and a steady beat that shifts into some cool melodic leads ala Immortal Souls, with a driving double bass undercurrent. The chorus on this song, that doesn't show up until the end, just freakin' rules. The swirling and horrifying death growls are accompanied by some furious double bass that will have you cowering in the corner. Another standout track is "Scythe of Scarecrow" with its militant guitars and ultra brutal low growling.
This album does have a few down points as well. The drum sound is good for the most part, but occasionally it sounds a tad weak and hollow. And with this particular genre, it seems like most of the bands that play this style tend to use similar ideas at times. I was enjoying the album quite a bit until "A Faint Illumination" kicked in on track seven. I then thought to myself...haven't I heard this before? The same thoughts ran through my head at the opening of "Stand the Tempest." Not a huge problem, but one that's noticeable in a few places.
As for the rest of the package, the booklet has cool artwork with great band pictures. However, you have to go to their website to check out the lyrics. The lyrics are actually pretty deep and interesting. And for those who care, there is the use of one f-bomb.
This band, made up of members and former members of bands like Mortified, Venereal Disease, and Legacy put out a solid effort here. I can't say that this is the most original and groundbreaking album I've ever heard, but fans of the genre would do good to check them out.
Rating: 85/100
Review By: Matt Morrow
Label: Metal Blade Records
Total Songs: 12
Total Time: 50:26
Tracklisting: 1. Carmine Preface (Entrance), 2. Sterling Black Icon, 3. Weave Their Barren Path, 4. Dear Floating Water, 5. Breathe in the Black to See, 6. Ride for a Fall, 7. A Faint Illumination, 8. Live for This Moment, Stay Til' the End, 9. Scythe of Scarecrow, 10. Onward to the Finger of God, 11. Stand the Tempest, 12. Chambre Notre (Departure).
Best Songs: Tracks 3, 4, & 9.
Band Lineup: Sam Anetzberger - Lead Vocals/Whispers/Spoken Words, Sascha Ehrich - Electric & Acoustic Guitars, Stefan Weimar - Electric Guitars/Vocals/Backings, Ingo Maier - Drums/Percussion, Wolle Schellenberg - Bass.
Band Website: http://www.fragmentsofunbecoming.com