Extol - The Blueprint Dives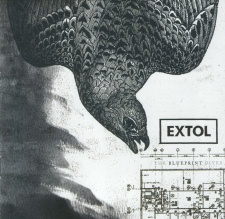 If there is one band whose fans are extremely passionate, it must be Extol. Whenever they come out with a new album, it's talked about, praised, and criticized from the first time some idiot leaks a pre-release to long after the next disc appears. There are Extol followers who love everything about the band and can't get enough of anything they throw out, and there are those who haven't liked a thing since Burial, but continue to buy their albums hoping for a return to the "glory days."

Now, Century Media claims that this is Extol's heaviest album to date. I think CM needs to clean the wax out of their ears if they think this disc is heavier that Undeceived. Despite that mis-statement, Extol's brand of metal does get very heavy at times on this disc. But if you think Extol was content with their sound on Synergy…think again. With two members out and two new members in, Extol has taken off in a new direction once more. Where Synergy found the band in technical thrash mode, The Blueprints Dives, very simply put, finds the band playing a style that is much more melodic than their past work. Try mixing a touch of Synergy with influences from the rock band Ganglion. Only, that description barely touches the tip of the iceberg. Now before you start whining, I believe that Extol should still get the metal tag. I'll probably get flamed for that statement, but despite the presence of more non-metal elements in their music, they are still metal to me. While there are lighter moments on this disc, a very dark approach is taken on many of the songs, like on the haunting tune, "The Death Sedative" or the ominous "Things I Found." They even do a couple nods to their one-time tour mates, Opeth, on a few songs. The dark feel is also evident in the soft guitars found in the song "Void", which reminds one of the opening guitars in "Time Stands Still" off of Undeceived. It's the variety that really helps this album. Many bands can over do it with variety to where a record sounds disjointed and forced, but Extol capitalizes on it like they never have before. They hit you from so many angles that you can't help but sit up and take notice.

Vocally, the band dives heavily into clean, melodic vocals mixed with some thrashy/screamed vocals. While Peter Espevoll has some of the best death metal vocals you'll ever hear, he really shines on this disc without venturing down that path. That will greatly disappoint the older Extol fans who don't like the new sound, but you gotta admit that the guy is versatile and seems to excel at whatever vocal style the band chooses to use. And while Synergy felt bland and feeling-less at times, The Blueprint Dives seems to overflow with passion throughout all eleven songs. One reason the emotion shows is gotta be the lyrical content of this album, which is fantastic as always. This is a band that truly believes...and truly adores the God they sing about.

I really do miss the old Extol, but this new disc is a breath of fresh air. You must get past the fact that Extol has moved on. This is not a progressive death or technical thrash fest anymore. In fact, the band is far less technical on this disc than on past efforts. But the songs have more staying power and fans that give this album a chance will be greatly rewarded.
Rating: 95/100
Review By: Matt Morrow
Label: Century Media Records
Total Songs: 11
Total Time: 49:42
Tracklisting: 1. Gloriana, 2. Soul Deprived, 3. In Reversal, 4. Pearl, 5. From the Everyday Mountain Top, 6. Another Adam's Escape, 7. The Things I Found, 8. Lost in Dismay, 9. Essence, 10. Void, 11. The Death Sedative.
Best Songs: Tracks 5, 7, 10, and 11.
Band Lineup: Peter Espevoll - Vocals/Acoustic Guitar, Tor Glidje - Electric & Acoustic Guitars, Ole Halvard Sveen - Electric & Acoustic Guitars/Vocals, John Robert Mjaaland - Bass, David Husvik - Drums.
Band Website: http://www.extolweb.com or http://www.undeceived.net