Century Sleeper - Awaken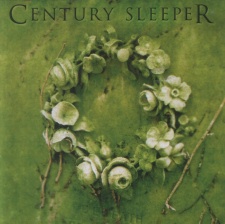 Ok, I'm beginning to wonder how many different bands Ian Arkley is gonna be in before his musical career is over. Is it because he just has so much music flowing from this veins that he just needs the outlets, or is he having some contest with Christian Rivel (Narnia, Divinefire, etc, etc.) to see which one of them can join or create the most bands? Either way, I'm thrilled to hear of another band with Ian Arkley at the helm. This time he has paired up with James Allin of Visionaire, and the two have created a masterpiece of atmospheric, gothic doom!
If you are familiar with Arkley's other work in Seventh Angel, Ashen Mortality, and My Silent Wake, and also Allin's work in Visionaire, then you will undoubtedly find some comparisons to latch onto here. However, despite the many similarities, Century Sleeper still manages to forge it's own trail in the musical landscape. While Arkley's other current band, My Silent Wake, went for a heavier, more extreme, death-oriented sound, Century Sleeper tends to go more of an accessible route, while still being "out there" for people not into heavier music. The guitars are crushing at times, but also full of melancholy and haunting melodies. Like I've said of Arkley's playing before...when he plays the guitar, it's almost as if it's another vocalist and not just an instrument. It just seems to convey sadness and emotion like only the human voice can. And speaking of the human voice, the vocals here are tremendous...probably Arkley's best yet. His clean vocals are incredibly eerie and frightening. And his occasional deathly growls are deep and powerful. I'm just loving it!!! Katherine Hamilton also lends some gorgeous female vocals to a few of the songs. While they are not as frequent as what you would find on Ashen Mortality's albums, they are perfect placed and do nothing but help the songs. And then there are James Allin's talents that are displayed magnificently on the drums and keyboards. While I never was a big fan of Visionaire, there were elements that I did like and you can tell those influences here.
You know what I love about this album....is that the band just allows the songs to breath and feel and explore. It's almost as if there was no script and what came of their time in the studio was just magical and fell in place like it was always meant to be. This is an album that you can headbang to, but also one that you can get lost in and totally find yourself in some sort of musical trance. This is truly an incredible album! And as if the music wasn't enough, you also have the wonderfully penned lyrics and the sweet artwork.
If you are fans of any of Arkley's previous work or of Allin's work in Visionaire, or of bands like My Dying Bride, then you must check this out! And if you are hoping I'll tell you which I like better between My Silent Wake and Century Sleeper, I'm not gonna. It's a tie. Now go get them both if you truly are the music lover you say you are!
Rating: 95/100
Review By: Matt Morrow
Label: Bombworks Records
Total Songs: 12
Total Time: 70:46
Tracklisting: 1. Voyage, 2. Arnos Vale, 3. My Face in Eternity, 4. Look Straight Through, 5. Lost on Your Ocean, 6. Fainted World, 7. Centenary, 8. Your Once Loving Heart, 9. The End, 10. As I Close the Final Page, 11. Autumn, 12. Gaudete (Hidden Bonus Track).
Best Songs: 1, 2, & 8
Band Lineup: Ian Arkley - Lead Vocals/Rhythm, Acoustic, and Lead Guitars/E-bow/Bass, James Allin - Keys/Drums/Programming/Guitars/Backing Vocals/Bass, Katherine Hamilton - Vocals/Keys.
Band Website: http://www.blackplanet0.freeserve.co.uk/centurysleeper.htm