Apiary - Lost in Focus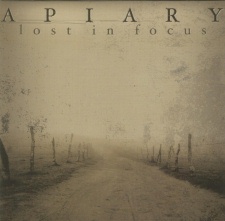 I think the most appropriate title for this debut album by Apiary would be "chaos-core." For those into the chaotic metallic hardcore of bands like Norma Jean, Spitfire, and Converge, and for those who remember the madness of bands like Focal Point, Overcome, and Training for Utopia, this five-piece will be music to your ears.
Truthfully, I don't really hear anything new here, and for those who grew out of this genre years ago...you may not have any interest in returning. But for those who love metallic hardcore and like it frantic and in your face, this band does it up right. I think my favorite thing about the album is the drumming. Adam Elliot is freakin' all over the place and it makes me exhausted just listening to him. Yet he seems to be the glue holding it all together at times...just when you think the final thread will break loose and the whole thing will come crashing down in ruins. Not to be outdone, you gotta love the dueling guitars of Peter Layman and Mike McClatchey that pummel you to no end with stop/start rhythms, which at times gets repetitive, but keeps you on edge throughout. And then there are the vocals of Jason Ingram that are screamed with such force that you'd swear he's about to hack out his vocal chords. He also utilizes some haunting spoken vocals at just the perfect times.
Packaging is pretty cool with great, eerie cover art and production is thick and solid. Lyrics are also well-written and thought-provoking, and they seem to follow the angst, anger, and darkness that was so prevalent on Training for Utopia's Plastic Soul Impalement album.
So overall...not gonna bring back the old-timers of the genre, but for those who stuck around, this brutal slab of music will more than satisfy.
Rating: 85/100
Review By: Matt Morrow
Label: Metal Blade Records/Ironclad Recordings
Total Songs: 13
Total Time: 44:22
Tracklisting: 1. Pain is the Reason, 2. Descent, 3. Extract, 4. Omnipresence, 5. Intervention, 6. Bliss in Vain, 7. Forced to Breathe, 8. Lustrum, 9. Peril's Divinity, 10. Solidified Foundation, 11. Fading Imprint, 12. These Walls are Permanent, 13. Finding a Way Back.
Best Songs: Tracks 3, 4, 5, & 13.
Band Lineup: Jason Ingram - Vocals, Peter Layman - Guitars, Mike McClatchey - Guitars, Dave Small - Bass, Adam Elliot - Drums.
Band Website: http://www.apiarymusic.com or http://www.myspace.com/apiary