Admonish - Den Yttersta Tiden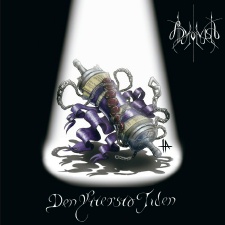 It seems like the trend now-a-days with Scandinavian extreme metal is to release EP's. Drottnar, Vardøger, Frosthardr, Antestor, Renascent, Vaakevandring, Shadows of Paragon, etc. It's frustrating to only hear three or four songs at times, but with the before-mentioned bands - at least those three or four songs were terrific metal songs. In fact, some of those bands' EP's were better than many bands' full lengths. So maybe it's not all bad to release so many EP's.

Well, whether you like EP's or not, the Swedish band Admonish has unleashed their first album after ten years of being together and it's....you guessed it...an EP. But in the tradition of those other great bands I mentioned, Admonish dishes out some terrific black metal for all you starved fans out there. As you can read from the interview I'm posting at the same time as this review, the band has undergone tons of lineup changes in ten years, but it hasn't seemed to affect the quality of their music. This band may not be releasing this album on a label, but don't let that fool you. Admonish fits quite nicely in with those bands I kept referring to up at the top of this review. And I would be absolutely shocked if somebody didn't pick these guys up when they are ready to record their first full length. Or heck, even another EP for that matter.

Enough of my ramblings...the music on this disc, while only clocking in at 17 minutes and 34 seconds is well worth the money spent ($10 including postage to the U.S.) The band plays very furious, yet very melodic black metal (w/o keyboards). And they play it with authority and confidence. Fans of Frosthardr, Antestor, Dissection, and probably even Vardøger will feel right at home here.

The first song "Epiphany" is a new song that the band wrote and it's my favorite on the disc. The band flows seamlessly between plodding black metal and aggressive and fast black metal. On the chorus they sing the first part of each line only to come to a screeching halt then hesitating to shriek out the second part of each line in forceful fashion. The guitars on this song have a very dark feel and the vocals are very black oriented with a bit of a deathly growl present. They also, on this song and all three songs actually, utilize some awesome sounding clean vocals. They do a great job of mixing the two. The other songs "Den Yttersta Tiden" (an older Admonish song that is very Antestor ROTBD-era influenced) and "Var Inte Rädd" are not really any kind of a let up as they also find the band in strong form.

Lyrically, the band sings one song in English and two in Swedish. The English song has terrific lyrics. They do an amazing job of describing the glory of Christ and the incredible transformation of a lost soul. Definitely a band that knows what they believe and very creatively paints a picture of what they are singing about.

The packaging is simple, but nicely done with lyrics, band photos, and interesting artwork for an extreme metal release...which the band explains in their interview. And to further explain the quality the band went for on this release, the album was recorded and mixed by Torbjörn Weinesjö of Veni Domine.

My only suggestion at this point for Admonish is this...let's have a full length album next time ok?!
Rating: 82/100
Review by: Matt Morrow
Label: Independent
Total Songs: 3
Total Time: 17:35
Tracklisting: 1. Epiphany, 2. Den Yttersta Tiden, 3. Var Inte Rädd.
Best Songs: Track 1
Band Lineup: Martin Norén - Vocals, Emanuel Wärja - Guitars/Vocals, Emil Karlsson - Guitars, Jonas Karlsson - Bass, Robin Svedman - Drums/BGV.
Band Website: http://www.admonish.org